Last Revised:
7/29/2001

Chess
It is said that chess is to the mind what physical exercise is to the body. Playing chess has been proven to:

Teach critical and abstract thinking
Develop logic, planning and analysis
Improve math scores
Improve reading scores
Improve concentration
Improve memorization
Improve self-esteem
Teach good sportsmanship

There is not one other single thing that could be added to your child's curriculum that can do all this, except chess.

Many public schools and homeschoolers have their students working through various thinking skills books, I have bought some myself. But chess is the ultimate course in thinking skills. That is why scientists trying to create artificial intelligence test their computers by their chess playing abilities. When you are working through a thinking skills workbook with your child, they get the puzzle right or wrong, and that's it. But when your child is playing chess, if they make a mistake in their calculations, then BAM! One of their pieces is gone from the board and there is an instant consequence. This gives much more motivation than isolated puzzles in a book. And the gratification of winning a big trophy at a chess tournament is a much better reward for their improved thinking skills than a happy face sticker on their workbook page.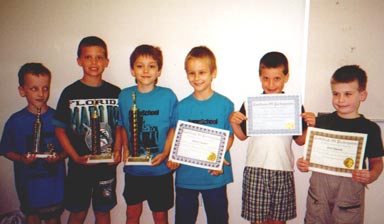 And in order to play chess well, you have to be able to see several moves ahead, and their variations. Bobby Fischer could calculate seventeen moves ahead. The person who can see the most moves ahead is the person who will win. Talk about logic, planning, and analysis skills! These are skills that will help in every aspect of your childs life. Colleges and Universities are aware of this and are now offering big scholarships to chess players to get them into their schools. It is no coincidence that chess players are often scientists, engineers, and computer programmers. These occupations all require the higher thinking skills that chess develops.

New York City, with their Chess in the Schools program, long ago saw the value of playing chess. It has been proven to improve reading and math scores. Most people would figure it would improve math scores but why reading, also? When kids get serious about chess, they want to get better. If you want to get better you have to read chess books. Chess has also been proven to improve concentration and has been used with great success with kids diagnosed with ADD. With so many kids in the public schools running around on Ritalin, you'd think that chess would be a must. This improved concentration also improves their reading and comprehension skills.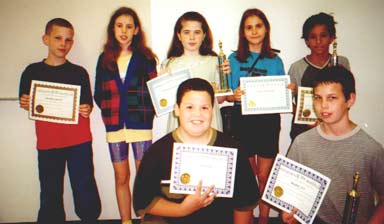 Children who play chess feel better about themselves. They learn a work ethic by seeing results for their hard study. They also learn perseverance. There are many games in which a child has had their Queen captured early in the game and would like to give up, but hung in there instead. Then they capture their opponents Queen with a royal fork and end up winning. And even when they lose, if they keep score, children can analyze their own games and see what they did wrong. Winning is great, but you never learn anything new by winning. Good chess players get even better by looking over the games they lost, finding their mistakes, and never doing them again. So chess even turns defeats into the next victories. Playing chess gives children the emotional confidence and intellectual concentration necessary to become effective problem solvers in all aspects of life.

Playing chess is also a great social event for my son and now for my daughter. We attend a homeschool chess club at the Evesham Library during the school year, and the chess club at the Galloway Library during the summer. We also attend tournaments at Oakcrest High School, Princeton Charter School, and for the first time, we had a homeschool team at the NJ State Championships and they won fourth place. My children have met many friends at the chess clubs and tournaments. The children who attend chess tournaments are just a great bunch of kids. In between rounds, they play together outside and really get where they are rooting for one another. Playing in chess tournaments has been a great experience for every homeschooler I have known that has competed. If you and your children would like more information on joining a chess club or playing in tournaments, I will be happy to e-mail you more information. If there were enough interest, I would definitely consider starting another homeschool chess club in the Atlantic County area.

I hope you have become convinced of the value of playing chess and are searching the bottom of your closet for your lost pawns at this very minute! But before you start your children on a course of serious chess study, I would recommend that you purchase a tournament quality set from the US CHESS FEDERATION. Don't let the description of "tournament quality" scare you, because they cost less than $15. The pieces are large and sturdy, and the boards have algebraic notation around the edges. Your children will need a tournament set to bring with them when they start playing in tournaments, so you might as well start them out right.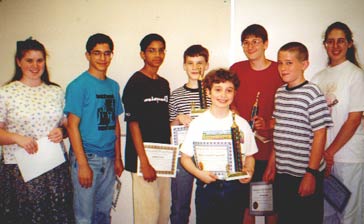 Finally, don't let your inability to play chess keep your children from learning the game. If you do not know how to play chess, you can learn along with your children. There are great books and computer CD's to teach both you and your children.

For children between the ages of 4-8, I recommend the following :

Chess for Children by Ted Nottingham, Bob Wade & Al Lawrence.
Using the "Lincolnshire Technique" children (and adults) learn how each piece moves one at a time. They learn the games of Pawns, Kings and Pawns, Attack of the Mad Queen, and even get a certificate for passing the Knights Driving Test.
This book is available at the Atlantic County Library, or can be purchased from the US CHESS FEDERATION or any local or web book store.

Chess Mates CD-rom from Brain Storm.
This is the best chess CD for children. It not only teaches children how to play, it teaches them basic mating patterns and tactics. This CD will take your children from just moving pieces around the board to actually playing the game strategically. An award can be printed out when the tutorial is finished. They can also challenge the computer at ten different levels of play and receive an award for each level that they win without assistance. The only negative to this CD is that the main character is a wizard that sets up chess puzzles using a magic wand.
This CD is available from the US CHESS FEDERATION.

For children 9 years and older, I recommend the following:

Winning Chess Series by Yasser Seirawan
This is the best series of beginner-intermediate chess instructional books I have come across. When my son started playing in tournaments, we began the Comprehensive Chess Course by Roman Pelts and Lev Alburt. This is a great instructional series also, but it is very dry and seemed to overwhelm my son. On the other hand, Yasser Seirawan's books are written with humor and, even though he is teaching basically the same material as the Comprehensive Chess Course, the way he presents the material makes it easier to understand and easier to apply to a real game situation. The series includes the following books in the recommended order of study:

Play
Tactics
Openings
Endings
Strategies
Brilliancies

This series is available from the US CHESS FEDERATION or any local or web book store.

Power Chess CD-rom from Sierra
This instructional CD will greatly improve your level of play. There are many different "opponents" in this kingdom to play against, with the strongest being the Queen of course. Challenging the King is where the instruction takes place. The King's chess playing abilities is always set a little higher than your own. After the game, the Queen goes over the moves and shows you your mistakes. You can practice those moves in the Lab afterwards. You receive a rating when you play the King. This CD is available at Best Buys.

If you get through all these suggested instructional materials, I'm sure we will be seeing you at the local chess clubs and tournaments, so then I'll tell you what instructional books to get next.

I give my children chess lessons three times a week during our normal school time. When I am working through a book with them I always read the lesson in advance. A fifteen to thirty minute lesson is enough. I read the instructions to them, or summarize the instructions, and set up the positions and puzzles on the chess board. The child should not move the pieces, but should tell you what their move will be. The pieces can then be moved to show the final position. It is important for developing their visualization to keep them from moving the pieces. Then they play two games, one as white and the other as black, either against me or using a chess CD-rom, or on the Internet Chess Club.

The INTERNET CHESS CLUB is a great place to play chess on-line. There are always hundreds of opponents from all over the world ready to play. You have the choice of rated or unrated games and can even participate in on-line tournaments. This is a very professional site, and you don't have to worry about offensive language. You can even make it so that your children can not receive any communications from other players. There are always Masters playing and you can watch their games as they play. The INTERNET CHESS CLUB is highly recommended by all chess players.

Why the value of playing chess is not seen by most public schools and home schoolers is beyond my comprehension. People will spend every night of the week getting their kids to their baseball and soccer games, but can not find the time to teach their children chess. Our society has become like the ancient Greeks and Romans with their love of sports above all else. I hope more parents will make the time in their busy schedules to play chess with their children. No child's education is complete without it.